Welcome to the world of QUEEN DENTAL - a German manufacturer of dental materials where quality and innovation come together in a perfect union. Our purpose is not only to create dental products, but to inspire doctors and patients to a whole new level of trust and confidence in patient care.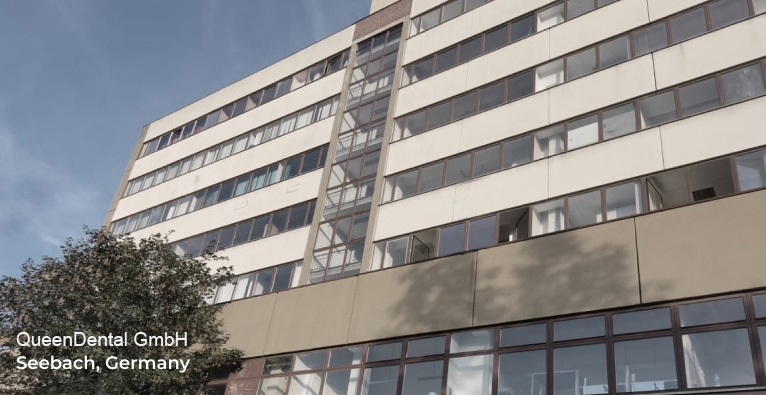 QUEEN DENTAL
WAY TO PERFECTION
Our story began in a calm German village, amidst landscapes that inspire progress. We established our first R&D centre in the building where the world-famous Ruhla watches were created. In this unique location, our dedicated professionals, charged with love for their work, began their journey to develop the next generation of dental materials.
QUEEN DENTAL
INNOVATION AND QUALITY
We are unstoppable in our achievements. Always at the forefront of technological advances, we create products using the latest innovations in composite chemistry. Our materials are rigorously tested and researched to satisfy the highest standards and requirements of dentists.
We are more than just manufacturers. We create products that will meet the most stringent quality standards. Doctors around the world will be able to provide patients with reliable and effective solutions. Our mission is to develop materials that exceed expectations not only in Germany, but also worldwide.
QUEEN DENTAL
TOGETHER TOWARDS EXCELLENCE
We invite you to join our journey to excellence. With us, you will receive not just products, but support on your career as you move towards a successful dental practice. We take pride in the fact that our materials are created with a love of detail and care for the health of your patients.
advantages
MULTI-LEVEL QUALITY CONTROL ACCORDING TO ISO
Commitment to perfect German quality and a great desire to make a name for ourselves give us a chance: we rigorously check all products. The quality department is staffed by employees with extensive experience in the pharmaceutical industry.
PERFECT EQUIPMENT
High-precision modern equipment and with excellent raw materials and experienced craftsmen - this is the basis that creates the name of the company.
INCOMING RAW MATERIAL INSPECTION
QUEEN DENTAL has its own laboratory for checking the quality of raw materials. Although we purchase them from trusted manufacturers, the raw materials are still additionally checked. This is more secure.
RD DEPARTMENT
We have recruited talented professionals to create more in-house designs for us and for you, and to look for any options to improve products across all product lines.
TAKING THE BEST FROM THIRD-PARTY TECHNOLOGIES
When we use third-party technologies and developments, we make sure that the innovation is useful, and a truly important improvement that will benefit the quality and convenience of our products.